There are three production processes for memory foam pillows: filling process, cutting process and molding process.
And our company choose the molding process. Each pillow is foamed individually in a special mold. It can be molded into any shape according to the mold, and the surface of pillow core is smooth and clean, the density is high, and the performance of slow rebound can be maintained for a long time. Molding is a best production process at present.
The density of molded memory foam usually can reach 40D-90D. And also we can produce as per customers' requirement.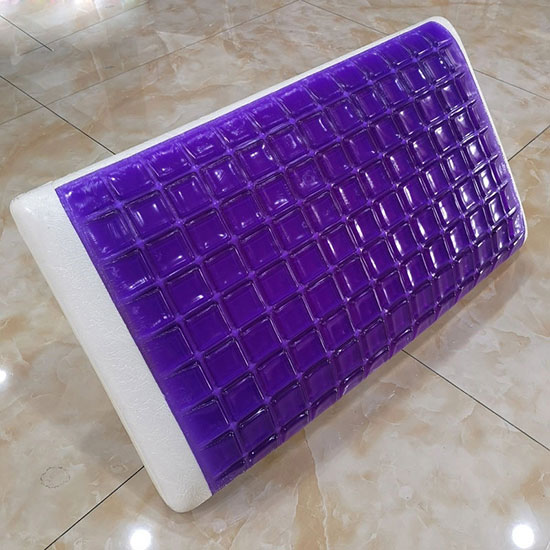 The production process of gel pillow as below:
1. Preparing formula and stirring mixture;
2. Placing a gel sheet in a mold;
3. Injecting the mixture into molds;
4.Close the molds and waiting for foaming;
5. Foaming done and open the molds in 10-15 minutes;
6. Trimming pillow edge;
7. Putting finished memory foam pillows in a well-ventilated room for 3 days and waiting for maturation;
8. Packing pillows.
About the smell of memory foam pillows
Any brand-new memory foam pillow has a smell. Otherwise, if a brand-new memory foam pillow has no smell, that means it might not be made of memory foam. The research shows that the smell is harmless to human body, and it will disappear for about a week. If you can't bear the smell, put the memory foam pillow in a ventilated place for 3 days before using it.
We are a leading manufacturer of memory foam pillows and gel pads in China with over 10 years experiences. If you are working in home textile industry now, and want to develop your business in memory foam pillows, gel pillows, mattress toppers, we'll be your preferred supplier.
Email: [email protected]
WhatsApp: +86-13725248510