Maternity pillows have always been a hot-selling products in Amazon's baby products category, and can be described as a best sleep helper to help expectant mothers during pregnancy. It was specially designed for pregnant women according to their body curve, and can relieve the back pain and stress to a great extent.
Here let's analyze several pregnancy pillows with high sales on Amazon, help Amazon reseller avoid infringement of the appearance patents.
Type 1: U-shaped Pregnancy Pillow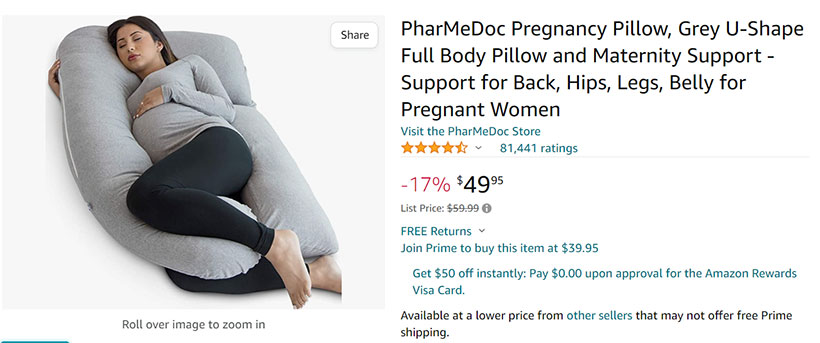 This U-shaped maternity pillow with 8W+ ratings, is the top 1 on Amazon's Maternity Pillow Bestseller List.
This pregnancy pillow is designed in line with human body structure, more comfortable for pregnant women to lie in, can support the head, back, hips, knees and other parts. Besides, it has a detachable design. Therefore, expectant mothers can adjust the comfort according to their sleeping positions.
Through investigation, we found a very similar maternity pillow with US design patent. You can compare and analyze the similarities and differences through the following picture.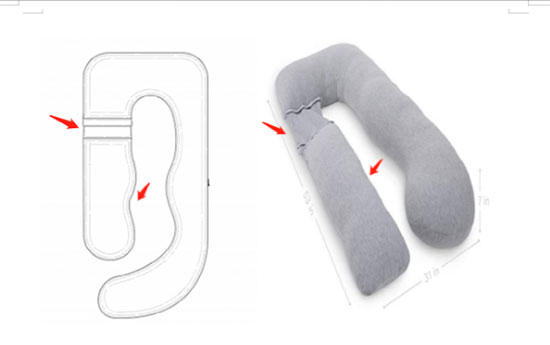 In the above picture, the left one has authorized appearance patent U.S. D914398, and the right one is the besting selling on Amazon. There are 2 differences (marked with red arrow) between the two pregnancy pillows.
Please note that the both 2 pregnancy pillows have been granted the patent protection already.
So when sellers see business opportunities, you make some changes on the product to avoid infringement of the appearance patent.
Type 2 U-shaped maternity pillow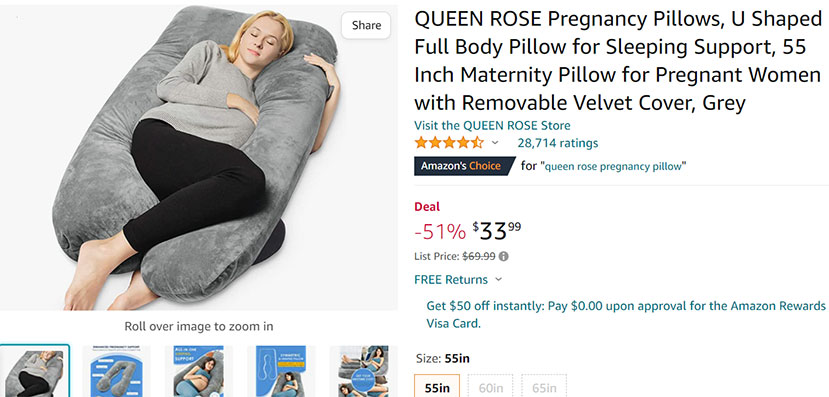 This U-shaped maternity pillow is similarity as the TOP.1 model on the best-selling list, but it is more similar to the letter "U", and has been granted the British design patent. Sellers cannot sell the same model without authorization. Beware of infringement!
Type 3 J-shaped pregnancy pillow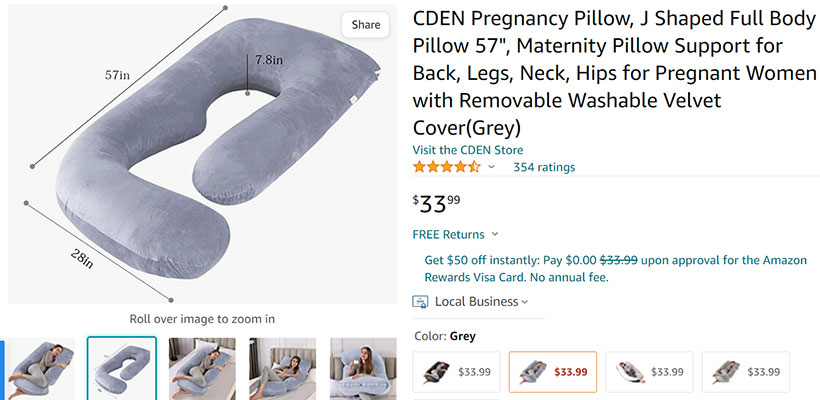 This J-shaped maternity pillow looks similar to the best-selling TOP.1 model, but if you look closely, you can see that it has no detachable design.
This product has also been successfully granted the U.S. appearance patent in June 2021, so sellers should be careful before listing such products.
Type 4 Detachable U-shaped pregnancy pillow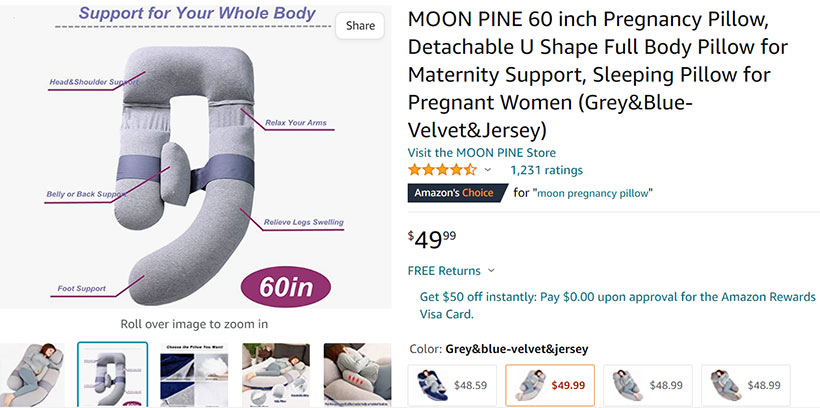 This type has some innovative parts compared with the above 3 types. The detachable design is added, which can be flexibly turned into a "C" shape and a "J" shape, and a small belly pillow is specially added, can provides support and eases pregnancy discomfort.
This model has also successfully been granted the U.S. appearance patent in 2020, so sellers cannot list the same product on Amazon.
Based on the above analysis, we can summarize the following 4 suggestions of avoiding infringement.
The above-mentioned maternity pillow products that have got US and UK appearance patents cannot be sold on the Amazon by sellers without authorization, otherwise it will cause appearance infringement
Except for the top-selling maternity pillow, the rest of the popular models may all have prior patents and are similar to each other. Sellers should conduct comprehensive infringement investigations before listing products.
Maternity pillows have great potential market. Sellers can design shapes that conform to human body structure (U-shaped, I-shaped, C-shaped, etc.) through innovation and improvement, and apply for appearance patents as soon as possible to create your own brands to prevent infringement
Break through the defects of pregnancy pillows, such as easy deformation, not easy to carry, etc., to create your own brand with humanized design.